High-Strength, Corrosion-Resistant Composite Tank Repair and Reinforcement
Tanks can fail for a wide variety of reasons, depending on the service conditions.
With experience in industries ranging from Nuclear Power to Oil and Gas, Advanced FRP Systems provides long-lasting, maintenance-free composite solutions for corrosion, erosion, and structural reinforcement of tanks and other assets. We have solutions for long term water immersion, sour crude exposure, microbially influenced corrosion, acid attack, black and white liquor, bleach, caustics, and aggressive chemicals.
For the most badly corroded, eroded, or damaged tanks we offer a full structural composite system featuring high-strength, aerospace-grade, US-made carbon fiber composites. Composite tank repair solutions are engineered to either enhance the strength of the existing tank wall or to completely rebuild the tank and take 100% of the structural load.
Why Carbon Fiber Is The Right Choice
Using a composite carbon fiber reinforcement system is a great alternative to tank replacement or traditional labor-intensive and costly tank repair methods. No matter how badly degraded your tank maybe, we can design a system to bring it back to or exceed its original design values.
Carbon Fiber:
Is light-weight and has 10x the strength-to-weight ratio of carbon steel
Is not prone to corrosion like metals are
Bonds to a wide range of substrates, including carbon steel, aluminum, stainless steel, concrete, fiberglass, and even wood.
Designed to withstand temperatures up to 375°F, making it suitable for high-temperature assets and assets that experience thermal cycling.
Installing a carbon fiber composite inside of an existing tank will completely eliminate further corrosion of the substrate by acting as a thick-film barrier coating. Carbon fiber composites can be designed to withstand concentrated acids, hot sour crude oil, aggressive solvents, and many other immersion conditions without experiencing degradation.
All our products, including our carbon fiber threads, are made in the USA. We provide only the highest quality materials that comply with many pertinent ISO, ASTM, ASME, and API code requirements.
We offer the following options:
Spot repairs – for tanks experiencing isolated corrosion or erosion, even with through-wall failures, a carbon fiber composite patch may be the best solution. This patch can be installed quickly and efficiently and provides a high-strength, chemical-resistant barrier compatible with a wide range of high-performance coatings.
Sectional repairs – for tanks experiencing larger scale corrosion limited to certain areas a sectional repair with carbon fiber composite may be the best solution. Sectional repairs can be performed on tank floors, walls, and/or roofs and they provide structural reinforcement, leak prevention and mitigation, and long term corrosion prevention.
Full tank enhancement – for tanks experiencing systemic corrosion that are still structurally sound, we can use our composite technology to augment the strength, fix leaks, and prevent degradation with our composite carbon fiber technology.
Structurally independent tank – for tanks experiencing extreme degradation and need a complete rebuild, we can use our composite technology to help you avoid replacing your tank. Using the existing tank as a mold, a composite carbon fiber tank can be built within the existing tank, structurally certified by a third party engineer as a free-standing structure, to meet and/or exceed all the original design parameters of your tank.
Customized Composite Tank Bottom Repair
Many tanks experience corrosion on the floor and floor-to-wall joint; this is especially prevalent in hydrocarbon storage tanks. Customized composite tank bottom repairs are very cost-effective, quick to install, and provide a long-term life extension for these tanks. Our composite system even allows API-required ultrasonic thickness analyses to be performed on the host tank right through the composite.
For tanks that do not have uniform degradation across the entire tank surface, we offer spot repairs for areas that are below the minimum wall thickness threshold or for through-wall failures.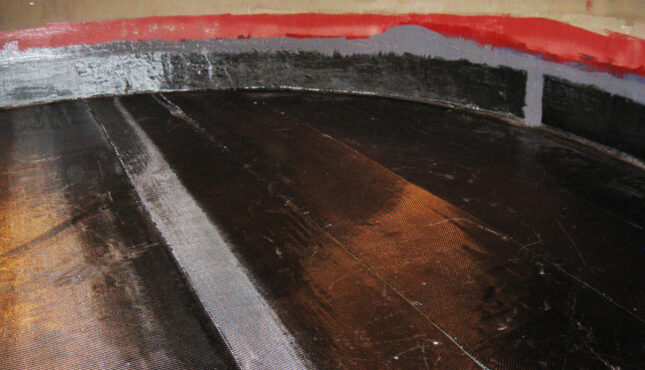 Industry Applications
Power Generation

Oil & Gas

Chemical Manufacturing

Pulp & Paper

Water & Wastewater

Mining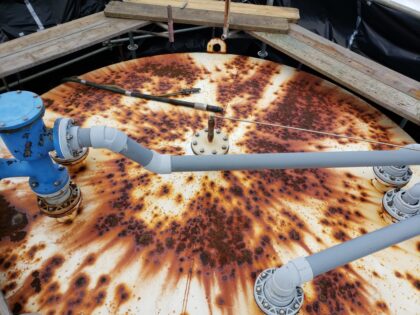 A hydrochloric acid storage tank was experiencing significant corrosion, especially in the vapor zone and on the roof of the tank. Several through wall failures were found and the smell of Hydrochloric acid was noticeable near the tank.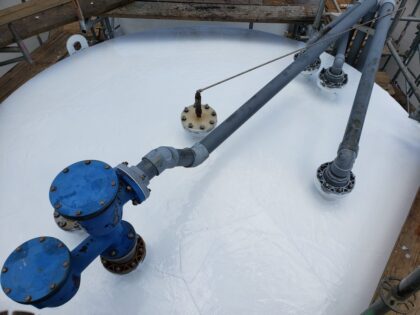 A chemically resistant, carbon fiber reinforcement system was installed over the tank roof. The system prevents any further external corrosion, provides a vapor tight seal to prevent the escape of hydrochloric acid and structurally reinforced the roof.
Search for the solution you're looking for, and we'll provide you with the answer.
Our Customers Also Select
Having Issues with Tank Erosion or Corrosion?
Contact us for a free evaluation!