Innovative Structural Repairs using Composite Technology
Composites provide a versatile tool for repairing, reinforcing, and protecting your infrastructure. Fiber-reinforced polymers can be designed for underwater application, best-in-class abrasion resistance, or prevention of cracks and buckling in damaged concrete. Advanced FRP Systems offers innovative, customized structural repair solutions ranging from reinforcement of corroded I-beams and rebuilding concrete pillars to repairs of off-shore and tidal zone pilings. We're more than a foundation repair contractor team, we're experts in composite solutions. Whatever structural damage or foundation problems you may have, don't hesitate to contact us for more information on how we can help you find the right composites solution for you.
At Advanced FRP Systems we take time to dive into the unique structural problems of your assets and build the right custom solution or preventative measure to meet your needs. We aim to deliver on quality products and guidance by combining high-quality, immersion-grade polymeric composites and coatings with comprehensive contractor training and oversight programs.
Our high-quality materials are compliant with many pertinent ISO, ASTM, ASME, and API code requirements.
Marine Industries: Underwater and tidal zone repairs of infrastructure can be costly and difficult to perform. Advanced FRP Systems offers specialty coatings and high strength composite reinforcement systems that can be installed and fully cured underwater.
Offshore Oil and Gas:  Offshore Oil and Gas facilities face numerous challenges to maintain their equipment in a harsh working environment. Our composite systems are ideal for pipe reinforcement below water, in the tidal zone, or above water.
Bridges, Pillars and Columns: Concrete provides outstanding compressive strength but once it breaks down it can be difficult to repair. Our composite reinforcement solutions can completely restore the strength of damaged or corroding bridges, columns, and pillars.
General Infrastructure:  Steel and concrete beams are crucial structural elements to infrastructure around the world. Advanced FRP Systems offers corrosion prevention and structural reinforcement solutions for concrete beams, Steel I-beams, and other structural elements.
Steel I-Beams are used in buildings, warehouses, industrial facilities and even offshore oil and gas platforms. Corrosion is a ubiquitous problem that can jeopardize the structural integrity of these crucial building blocks. Advanced FRP Systems has designed cutting edge, non-metallic reinforcement options to provide structural and foundation repairs and refurbishment as well as corrosion prevention for steel I-beams in a wide range of services.
We offer a customized approach to reinforcing steel I-beams depending on the needs of your facility. Our solutions include web reinforcement for shear stress; flange-face reinforcement for load enhancement and repairs of cracks, pitting and general corrosion; as well as full I-beam composite encapsulation for structural reinforcement and corrosion prevention.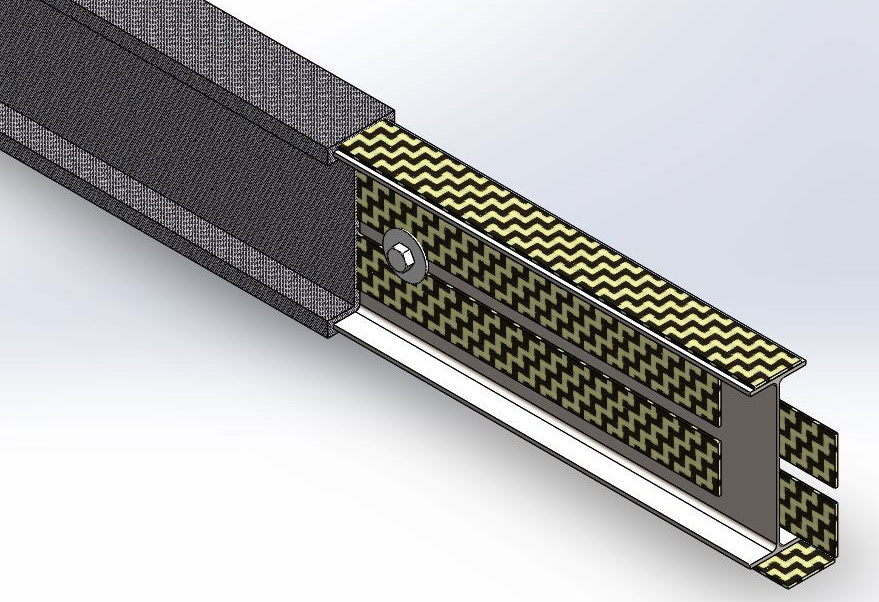 Our Specialty Solutions
Concrete Repairs with Composites

Underwater Repairs with Composite

Structural Steel Reinforcement

Thick-Film Structural Coatings

Spray-in-Place Piping

Specialty Flooring
Concrete Repairs with Composites
Composites can be used for a wide range of concrete repairs, from earthquake protection, foundation walls, to fixing any foundational problems. We specialize in custom concrete repairs using innovative composite solutions.
Underwater Repairs with Composites
Offshore and Tidal repairs can be extremely costly and difficult.  We provide underwater and splash zone curing composite systems for a range of offshore infrastructure and equipment
Structural Steel Reinforcement
Structural steel can quickly corrode, especially in highly corrosive, industrial, or marine environments. In consultation with a structural engineer, we apply innovative fiber-reinforced composites to reinforce corroded I-Beams and other structural steel.
Thick-Film Structural Coatings
Spray applied, thick-film, fiber-reinforced coating systems provide an excellent option for concrete and steel where hand lay-up of composites is not practical. These systems can be applied up to ½ inch in a single layer.
Spray-in-Place Piping
Our spray-in-place piping systems create a custom polymeric pipe within your existing pipe and provide structural reinforcement, corrosion prevention, and leak mitigation. Rehabilitate your piping system without the need for costly excavation, no matter the size.
Specialty Flooring
We provide specialty, non-skid flooring for offshore and vehicle grade services. Concrete coatings that will not crack even if the underlying concrete cracks and many more. Contact an expert to learn how we can prescribe the perfect solution for you.
Search for the solution you're looking for, and we'll provide you with the answer.
Our Customers Also Select