Specialty Coatings for a Wide Range of Applications
At Advanced FRP Systems, we understand the high cost of failures and unexpected downtime for industrial processes. Our specialty corrosion-resistant coating systems are engineered as long-term, maintenance-free solutions for a wide range of applications and provide corrosion protection in even the harshest conditions.
Our approach is to combine high-quality, immersion-grade polymeric coatings with comprehensive contractor training and oversight to provide you with a maintenance-free service life of over twenty years in most services. We pride ourselves in consistently delivering the highest certainty of outcome in the industry.
Corrosion-resistant coatings can be modified to offer corrosion protection for various substrates and corrosive environments. We can also offer solutions for highly abrasive environments, immersion in concentrated acids, or aggressive solvents.
We provide free failure analysis so talk to one of our experts if you have immersion-grade coatings that are blistering, delaminating, or experiencing pinhole corrosion.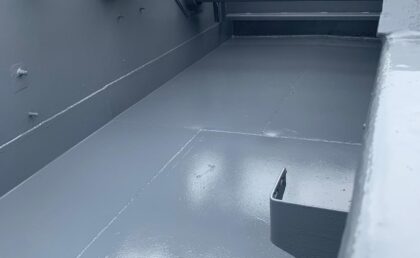 Chemical & Acid Resistant Coatings
Our extensive line of Novolac epoxy coatings stands up to concentrated acids, caustics, and aggressive solvents. We can even withstand chlorinated solvents at elevated temperatures.
Corrosion Protection Coatings 101
Many conditions will start the oxidation process and degrade metal surfaces over time including salt spray exposure, high moisture levels and environmental factors, and exposure to industrial chemicals and acids.
Anti-corrosion coatings are widely used to protect the integrity of the underlying metal components by helping to create a barrier between corrosive materials and chemical compounds, providing added protection in a number of industries.
Corrosion-resistant coatings are polymeric systems chemical compounds that can be applied to metal, concrete, wood, and many other surfaces in order to prevent corrosion. Industrial coatings include a range of polymers like epoxies, urethanes, polyureas, acrylics, vinyl esters, and silicones.
Our anti-corrosion coatings also help to protect your metallic surfaces against abrasion, offer non-stick properties for easy cleaning, and provide outstanding chemical and acid protection even at elevated temperatures.
Benefits of Corrosion-Resistant Coatings
Corrosion protection – The metal surface is protected against erosion, heat, oxidation, moisture, and corrosion.

Surface preparation – Corrosion protection coatings can be used for surface preparation for further painting or coating. They also facilitate excellent electric isolation and adhesion.

Less friction – Anti-corrosion coatings

can help remove mineral buildup, corrosion byproducts, and even the formation of calcification in tanks and pipes.
Corrosion Resistant Coating Types
Advanced FRP Systems provides a wide variety of corrosion-resistant coatings that can be adapted to match any application.
Our offer includes
Fluoropolymer

– fluorinated resin that offers excellent hydrophobicity and corrosion resistance.

Epoxy, ambient cure

– combine excellent adhesion, chemical resistance, and ease of application

Epoxy, heat cure

– provides outstanding corrosion prevention, even at elevated temperatures

Phenolic, heat cure

– excellent for low pH and high-temperature environments

Vinyl Ester

-excellent low-temperature cure and all-around chemical resistance.

Polyurethane

– UV Stable weathering protection for epoxy and inorganic zinc primer

Phosphate Coating

– A thin layer chemical treatment to prevent corrosion on steel parts

Zinc Rich Primer

– Zinc provides a sacrificial barrier layer when in contact with steel

PTFE

– the original non-stick coating, able to withstand high temperatures

FEP

– PTFE characteristics with better abrasion resistance
Many of these anti-corrosion protective coatings also provide abrasion resistance, non-stick properties, and chemical and acid protection.
Properties of Advanced FRP Anti-Corrosion Coatings
Minimal surface preparation required

No primer coat required

Dries quickly and allows high build through a single coat

Environmentally friendly and produced according to the highest industry standards

Safe and non-toxic
Industry Applications
Power Generation

Oil & Gas

Chemical Manufacturing

Pulp & Paper

Water & Wastewater

Mining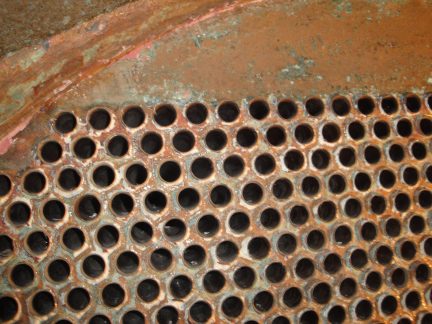 A tube sheet is showing signs of corrosion causing potential leaks of cooling water into the ultrapure condensate water. The difficult geometry coupled with elevated temperature water exposure make this a challenging repair.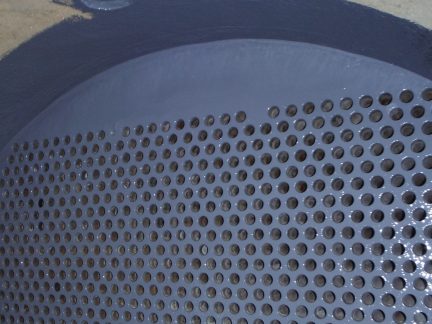 A thick-film coating system is applied over the entire face of the tubesheet. This system will completely eliminate further corrosion and seal any leaks between the tubes and tube sheet while providing a 20-year, maintenance-free service life.
Search for the solution you're looking for, and we'll provide you with the answer.
Our Customers Also Select