Composite Pipe Reinforcement Solutions for Buried and Above Ground Piping Systems
Advanced FRP Systems specializes in long-lasting, maintenance-free carbon fiber repairs for industrial pipes. Our carbon fiber wrap repair system for damaged pipes can be used for spot repairs on leaking pipes or to completely rebuild your piping system with a high-strength, corrosion-resistant carbon fiber composite pipe. In many cases, repairs can be done while your process is still in service.
Composite pipe reinforcement is a fast, cost-effective alternative for pipe replacement. It provides a longer life expectancy than traditional pipe clamps, does not require hot work as welded solutions do, restores the full functional capacity of a distressed, degraded, damaged, or leaking pipe, and increases system reliability and availability.
Before you consider replacing piping, reach out to our experts to see if composite pipe reinforcement with carbon fiber wraps is a better option for you.
Why Carbon Fiber Is The Right Choice
Using an engineered composite carbon fiber reinforcement system is a great alternative to pipe replacement. No matter how badly degraded your pipes may be, we can design a system to bring them back to or exceed their original values.
Carbon Fiber
Is very light-weight and can withstand up to 1000 psi for pipes with through-wall failures and up to 3000 psi for pipes with less than or equal to 80% wall loss.
Is corrosion resistant and can be designed to withstand concentrated acids or aggressive solvents.
Bonds to a wide range of substrates, including carbon steel, aluminum, stainless steel, concrete, fiberglass, and even wood.
Designed to withstand temperatures up to 375°F, making it suitable for high-temperature assets and assets that experience thermal cycling.
Is compatible with abrasion-resistant ceramic-filled epoxy technology
Carbon fiber composites will act as a thick-film coating preventing further corrosion. The composites can be installed internally or externally, with many of the external applications occurring while your system is online.
All our products, including our carbon fiber threads, are made in the USA. We provide only the highest quality materials fully compliant with ASME PCC-2 (2015) for Long-Term Repairs Including Through-Wall Failures as well as many other pertinent ISO, ASTM, ASME, and API code requirements.
Carbon Fiber Installation Process
Most composite repairs require surface preparation of the entire pipe surface. Our adhesion zone concept can help reduce required surface preparation by up to 95%.
Our carbon fiber composite installation process includes:
Surface preparation
Active leak mitigation (when necessary)
Filling in of pits and voids using a high-build, epoxy putty
Installation of a galvanic barrier (when necessary)
Application of a high-strength carbon fiber composite with your needs guiding the design of the repair.
A wide-range high-performance functional coatings can be applied depending on the exposure conditions and design criteria of the carbon fiber composite.
All the system components are 100% solids, zero-VOC epoxy technologies and can be applied wet-on-wet, enabling some repairs to be completed within a single shift.
Advanced FRP Systems' composite pipe reinforcement systems are specifically engineered to provide quick, effective, long-term solutions for badly damaged and corroded pipes.
If the pipe is readily accessible from the outside, an external carbon fiber wrap pipe repair is probably the best option. External repairs with our Carbon Fiber system are fully compliant with ASME PCC-2 (2015) for both standard and high-risk repairs.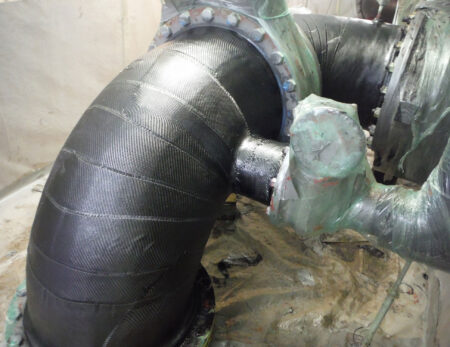 External Wraps
For water pipes, internal corrosion is the most common reason for pipe failure, especially if the internal coating has begun to fail. Our external wraps are compatible with through-wall failures up to 1,000 psi, even when caused by internal corrosion. Solutions are available to help ensure your pipe will not leak even if the internal coating completely fails.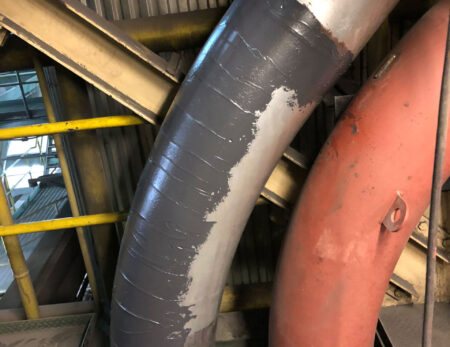 Solutions for high wear areas
High abrasion resistant solutions are also available for high wear areas of your piping, like elbows, restrictions, or T's. These systems are compatible with solids, like coal dust or ash, as well as abrasive slurry exposure. Advanced FRP Systems combines the abrasion resistance of ceramic with the strength of composite carbon fiber to provide the best, long term solutions for wear and abrasion.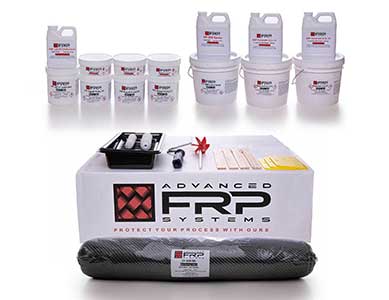 Carbon Fiber Repair Kits
Our versatile Carbon Fiber Pipe Repair Kits are ideal for external repairs of metallic, fiberglass, PVC pipe, or concrete pipes ranging from 1 inch up to 60 inches in diameter. After proper surface preparation, these kits contain everything you need for a full composite leak repair around the pipe.
Advanced FRP Systems will train your internal maintenance staff so they are qualified to perform a long term repair!
External pipe repairs are often not practical for large buried pipes. The cost of excavation and repairs on these systems can often match or exceed the cost of new pipe installation. Pipes above 30 inches in diameter can be repaired internally with carbon fiber wraps to completely eliminate the cost of excavation. Our internal pipe reinforcement systems can either add structural strength to the host pipe or can be used to build a structurally independent composite pipe within the host pipe.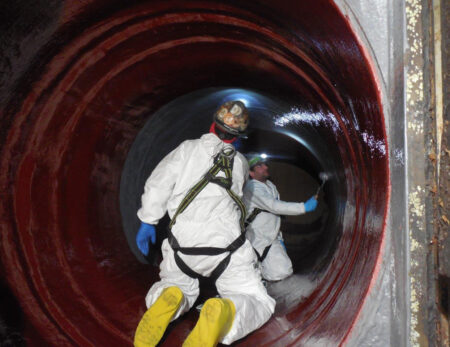 Customized solutions compatible with temperatures up to 375°F
If your plant is experiencing degradation of your critical buried pipe, Advanced FRP Systems will help you diagnose the problem, determine the best refurbishment method, then design a customized composite repair solution to meet your needs. Our carbon fiber composite systems are compatible with temperatures up to 375°F and can be used on
Steel
Cast iron
Riveted piping
Prestressed cylindrical concrete piping (PCCP)
Fiberglass
Concrete piping
In many cases, repairs can be done with your process online. If you experience leaking pipe problems, we may be able to help keep you online while providing you with a long term pipe repair solution.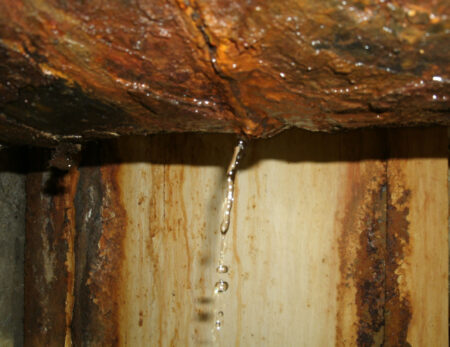 Online Repair of Active Leaks
Active leak mitigation is highly dependent on the location of the leak, operating pressure, cause of the leak, and the chemical nature of the leaking compound. Reach out to our team of application experts to determine if your pipe can be repaired while online.
Industry Applications
Power Generation

Power Transmission

Oil & Gas

Chemical Manufacturing

Pulp & Paper

Water & Wastewater

Mining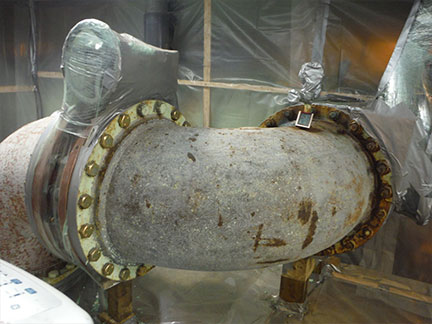 The elbow section of a circulating water lines was experiencing internal corrosion that caused a through wall failure. A composite repair solution was required that can withstand a through wall failure as well as continued internal corrosion.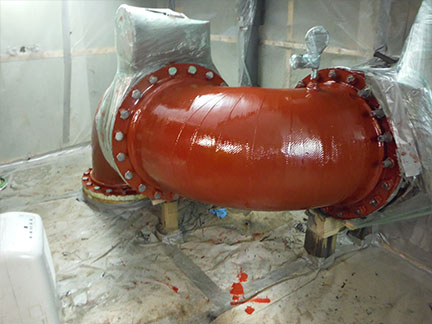 A brand new, structurally independent carbon fiber elbow was created by placing a carbon fiber wrap system around the existing elbow. The elbow was wrapped from flange to flange to minimize the possibility of corrosion creep beyond the repair.
Search for the solution you're looking for, and we'll provide you with the answer.
Our Customers Also Select
Having Issues with Pipe Corrosion or Erosion?
Contact us for a free evaluation!